My dearest sister,
Suzanne Brooks
, one of my closest friends, a tireless Activist, Founder and Executive Director of
Women of Color Day
and
Vocalist/Manager
of
"The Jazz Generation"
Band in Sacramento, has just informed me of the death of one of her beloved Role Models, Helen Suzman who died today at the age of 91.
From Wikipedia: Helen Suzman was born on 7 November 1917 to Lithuanian-Jewish immigrants.[1][2] She studied as an economist and statistician at Witwatersrand University. At age 20, she married Dr. Moses Suzman (d. 1994), who was considerably older than his wife. She had two daughters with him before returning to university as a lecturer in 1944. She gave up teaching for politics, being elected to Parliament in 1953 as a member of the United Party. She switched to the liberal Progressive Party in 1959, and represented the Houghton constituency as that party's sole member of parliament, and the sole parliamentarian unequivocally opposed to apartheid, from 1961 to 1974.

She was often harassed by the police and her phone was tapped by them. She had a special technique for dealing with eavesdropping, which was to blow a whistle into the mouthpiece of the phone.
Aurora was written in February, 2008 by Suzanne Brooks and Reggie Graham.
It is the official Women of Color Day (March 1st) Diversity Theme Song of The
International Association for Women of Color Day and support the human and
civil rights work of Justice 4 All Includes Women of Color. (Avail. Jan. 5th)
Suzanne Brooks

, Vocalist/Manager of The Jazz Generation Band in Sacramento
Reggie Graham
, keyboard, is a well known jazz musician and Music Minister of Antioch Progressive Baptist Church in Sacramento. We have written another song together, "Lasting Impression," about my one date with trumpeter Miles Davis. That will go on sale too in another week.
Sergio Ortuño
, Percussionist, is Director of Mundo Afro Candombe Drum School in Montevideo, Uruguay
Sunday, February 10, 2008
We Are the Ones: Poem by June Jordan - Aurora Song / Video
"Aurora" by Suzanne Brooks and Reggie Graham


I respect, love and admire Suzanne so much, a source of inspiration to me, she is a very strong woman on top of everything else, she just lost her mother the day after Christmas, without making fun of very sad news, I must say that she is like the rabbit in that battery commercial "She gets a licking and keeps on ticking", that's my sister Suzanne.
Give me a favor, will you? Please go to her sites and support her work by either buying
IWOCD Kits
(March 1st is IWOCD), or, buying some of her
CDs or just liten to some clips
, the music is great and I'm confident that you will love it as I do.
You can order here on CDbaby also
A great woman just left us, let's support another who is still with us.
Aurora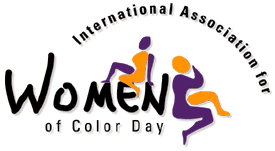 Click Here to Enter!
"Women of Color Light Up the World"
The International Association for Women of Color Day was
established to promote the commemoration of
Women of Color Day March 1st, annually and world wide.
HISTORY
In 1981, the
National Institute for Women of Color
(NIWC) was established to build a strong national network for women of African, Alaska Native, American Indian, Asian, Hispanic, Latina and Pacific Island heritages and to advance the issues of Women of Color. These efforts resulted in National Strategies Conferences for Women of Color in 1982 and 1983 in Washington, DC, 1984 in Reno, Nevada and 1987 in Harrisburg, Pennsylvania. NIWC also published three Fact Sheets on Women of Color and as well as several NIWC Brown Papers—researched writings on issues of concern to Women of Color.
More...

Some history of one of my beloved role models:



South African anti-apartheid activist Helen Suzman, who won international acclaim as one of the few white lawmakers to fight against the injustices of racist rule, died Thursday. She was 91.
Suzman, who was twice nominated for the Nobel Peace Prize, fought a long and lonely battle in the South African parliament against government repression of the country's black majority and the imprisonment of Nelson Mandela.

For 13 years, Suzman was the sole opposition lawmaker in South Africa's parliament, raising her voice time after time against the introduction of racist legislation by the National Party government.

Mandela said of her efforts: "It is a courage born of the yearning for freedom; of hatred of oppression, injustice and inequity whether the victim be oneself or another; a fortitude that draws its strength from the conviction that no person can be free while others are unfree,"

Suzman prided herself for reading four newspapers every morning and championing causes close to her heart. . . . . "The great thing about my life is that is has never been boring — long, interesting, maddening at times but never boring," she said."

Suzanne

A few more details on Helen Suzman
January 1, 2009

Helen Suzman, who campaigned tirelessly against apartheid as a member of South Africa's parliament, has died.

Suzman, who died on Thursday, was 91.

Known for her sharp tongue and capacity for oratory, Suzman served in Parliament for 36 years, 13 as the only representative of her Progressive Party, the only party to oppose apartheid, before stepping down in 1989.

Fellow lawmakers often called for her to "Go back to Moscow" or "Go back to Israel" during Parliament sessions.

She frequently visited black political prisoner Nelson Mandela in prison and was nominated twice for the Nobel Prize.

When South Africa held its first democratic elections in 1994, marking the end of apartheid, she was tapped to serve as an election commissioner.

Suzman was born in South Africa in 1917 to a Jewish Lithuanian immigrant couple, Samuel and Frieda Gavronsky. Her mother died two weeks later and her father later remarried.

She was predeceased by her husband Moses Suzman, and is survived by two daughters.

News from Africa

01/01/2009 17:19

JOHANNESBURG, Jan 1 (AFP)

Suzman: relentless critic of South Africa's apartheid

Helen Suzman, who died Thursday at the age of 91, became the white face of opposition to apartheid as she tirelessly battled South Africa's then-minority regime in parliament for 36 years.

The daughter of Lithuanian Jewish immigrants, Suzman led what she described as a privileged life, before becoming politically aware of the deep racial injustice scarring her country while studying the plight of African migrant labourers in university.

"I was appalled. It was this experience that brought me into politics," she later wrote in her autobiography.

She went on to lead an uphill and sometimes lonely battle opposing racist laws in parliament and visiting political prisoners, including South Africa's most famous -- Nelson Mandela, who became president.

"Mrs Suzman was one of the few, if not the only, member of Parliament who took an interest in the plight of political prisoners," Mandela wrote in his 1995 autobiography, "Long Walk to Freedom."

Born in 1917, Suzman went to a good school, dropped out of university to get married and led what she later described as a charmed life of dancing and horse riding.

She become politically aware after returning to university in 1945 and researching the plight of African migrant labourers who were brought to so-called white areas to work but forced to leave their families behind.

In 1953, Suzman won a ward for the opposition United Party in the uppercrust Johannesburg suburb of Houghton and became a backbencher in parliament.

Her mission, shared with a few fellow liberal MPs in the party, was to oppose every racist law tabled in parliament. Still, the group lacked the backing of the party leadership, which was trying to win over conservative voters.

The party split in 1959 and Suzman and a handful of others founded the Progressive Party. It fared badly in elections two years later, however, and she was the only member to hold onto her seat.

From 1961 to 1974, she became its sole representative in parliament and the lone liberal voice.

"I was subjected to a good deal of abuse, both inside and outside parliament," she recalled as she accepted an award in Michigan, in 1992.

"I was called a sickly humanist. I was called a perfect example of an unpatriotic South African. I was castigated as one who fought only for the rights of black people."

Suzman used her debating time to rail against forced removals, racial inequalities, the erosion of the rule of law, capital punishment, torture, censorship, police abuses and every other trademark of white minority rule.

She also honed a sharp tongue. It became legend that the only time she felt compelled to sit down and keep quiet was when her slip fell down, in 1980.

"I have written you off," then-prime minister Hendrik Verwoerd told Suzman in 1966. She retorted: "Yes, but the whole world has written you off."

Her two main targets became segregation -- which saw some 3.5 million blacks removed from their homes -- and laws allowing the state to detain political opponents without trial for 90 days.

She also paid regular visits to South Africa's jails and often set off afterwards to the prime minister's office to argue for better conditions.

Suzman also made a point of attending funerals of black people killed by the police, hoping her presence might reduce the violence that triggered a deadly spiral of police shootings, deaths and funerals.

"I never felt threatened," she recalled.

Among a host of distinctions, she received two human rights awards from the United Nations and an Order of the British Empire.

Even some opponents appeared to admire her. Among them: Hendrik Verwoerd, apartheid's most ruthless enforcer, who privately expressed his respect for Suzman's outstanding abilities as a lawmaker and her well-thought-out arguments.

But her relationship with the underground movement against apartheid was fraught because she opposed communism and sanctions and had taken part in an illegitimate political system.

In later years she was clearly moved when Mandela, who had led that struggle, saluted her courage and political cunning.

Suzman left parliament in 1989, five years before the country held its first all-race elections.

In retirement she continued to have her say, calling for the legalisation of marijuana, berating her former party for merging with the National Party and criticising the new government for failing to put the poor first.